FEATURES:

Economical
Abrasion resistance
Slit full length-permits break-outs
Easy assembly, fast on, fast off
Resistance to gasoline, oil other chemicals
Durable
Lightweight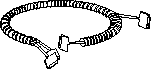 | | |
| --- | --- |
| Part# | Diameter |
| FXLM 14 | 1/4" |
| FXLM 38 | 3/8" |
| FXLM 12 | 1/2" |
| FXLM 58 | 5/8" |
| FXLM 34 | 34" |
| FXLM 1 | 1" |
| FXLM 112 | 1-1/2" |
ECONOMICAL, HIGHLY FLEXIBLE SPLIT LOOM FOR QUICK WIRING AND HARNESS PROTECTION:
This flexible polyethylene loom material permits easy fast installations and protection of harness and cable assemblies. The loom is slit full length so that it slides over the completed wire assembly easily, but closes after installation to protect the wire bundle. The slit allows for the wires to break out at any point along the cable length for custom installations.
The loom is durable and light weight. The convoluted surface provides heavy duty protection of cables and hoses from abrasion and damage in all types of automotive, marine and industrial applications.
Available in Black Polyethylene 1/4", 3/8", 1/2", 5/8", 3/4", and 1" Diameters.
© 1998, Russell Industries, Inc. and its affiliated Companies. All Rights Reserved
This Page was last modified on Tuesday, April 02, 2002
This page has been created by Franck Vialy